Choosing the right green building certification
Green buildings are more sought after and proven to provide owners and investors with higher tenant satisfaction, market differentiation and a better return on investment. Regulations and environmental, social, and corporate governance reporting are also driving the push for increasing sustainability in the built environment with buildings accounting for 40% of the World's CO2 emissions.
Selecting and attaining the best green building certification for your property portfolio will help drive asset value, however, the property world has become a crowded marketplace of benchmarks and certifications for ESG reporting.
There is a myriad of green building certifications available in the UK but which will be best for your building? The first step to making your decision should be to assess the stage of the property's life cycle and look at appropriate schemes. Think about the end goal – is it to enhance occupiers' wellbeing, to gain energy efficiency ratings and achieve savings, or a mix of these? Here's an overview of some of the best green certifications and benchmarks for ESG strategy – some of which can be reached whilst working towards the comprehensive BREAM or LEED assessments:
The ISO 14001 is the international standard that specifies the requirements for an effective environmental management system (EMS). It provides a framework that an organisation can follow, rather than establishing environmental performance requirements. Designed for any type of organisation, regardless of its activity or sector, it provides assurance that environmental impact is being measured and improved.
Minimum Energy Efficiency Scheme
MEES, is legislation that sets targets for Energy Performance Certificate ratings (EPC's). In April 2018 MEES restricted the new letting or renewal of assets where an existing EPC is below an E rating. In April 2023 the minimum E rating will extend to existing lettings as any with a F or G become unlawful and fines apply. In 2027 a minimum C rating, and in 2030 a minimum B rating will become statutory requirements, as outlined in the Energy White Paper in December 2020. Properties over 1,000m2 need a compliant action plan detailing the energy efficiency of the property for sales or lettings. The owner must either improve the building within a specified period or report annually on its actual energy use, until the improvements are complete.
Fitwel has been embraced by developers and workplace strategists as part of the growing trend towards healthier workplaces. The Fitwel Portal allows you to register, benchmark, and submit a single project or an entire real estate portfolio for Fitwel Certification.
This assesses buildings according to their impact on the health and wellbeing of building users. WELL is grounded in a body of evidence-based research that explores the connection between buildings and the health and wellness impacts on the people inside them. For a space to become Well Certified, it is necessary for it to achieve a defined score in each of seven categories.
Building Research Establishment Environmental Assessment Method (BREEAM)
Created by Building Research Establishment (BRE) a research-based group which aims to raise standards in the built environment, BREEAM is an independently assessed star rating on sustainability of the built environment, through all stages of a project's development. Areas assessed include energy, health and wellbeing, innovation, land use, materials, management, pollution, transport, waste, and water. The process is led by a trained assessor, who seeks evidence of best practice. It is a trusted label used on over 500k buildings to date and is currently being applied in over 83 countries. There are seven rating levels and a number of assessments and associated quality marks including:
BREEAM In Use is an independently assessed star rating for existing buildings, allowing stakeholders to measure, certify and improve existing assets. Areas covered are as above and the process is also led by an assessor.
BRE's certification for the residential sector, the Home Quality Mark is the badge of a better home. It enables house builders to showcase the quality of their homes, and to distinguish them from other houses on the market. It indicates the standards for running costs, health and wellbeing and environmental footprint for new homes, to allow benchmarking.
BREEAM Infrastructure (formerly known as CEEQUAL) is the world leading sustainability assessment, rating and awards scheme for civil engineering, infrastructure, landscaping, and public realm projects.
BRE has also developed a bespoke energy assessment tool to identify the most appropriate improvements for care homes. The aim is to help residential care homes operators identify the most appropriate energy efficiency upgrades to save money on energy bills and improve the comfort of residents. The Care Home Energy Efficiency tool is free to use and also provides care home providers with independent guidance on how to fund and procure improvements, using green funding through loans, grants or feed-in-tariffs.
Global Real Estate Sustainability Benchmark (GRESB)
The GRESB rating is designed to provide actionable ESG data and benchmarks for financial markets across all aspects of ESG for real estate. GRESB collects, validates, scores and benchmarks ESG data to provide business intelligence, engagement tools, and regulatory reporting solutions. The benchmark is aligned with international financial reporting frameworks, including the DJSI (Dow Jones Sustainability Indices) and TCFD (Task Force on Climate Related Disclosures), as well as goals set out by the Paris Climate Agreement, and the UN's Sustainable Development Goals.
Run in the UK by the Better Buildings Partnership, NABERS UK offers two products:NABERS Energy measures the efficiency of an office building and rates its performance. Design for Performance is the process whereby a developer or owner commits to design, build and commission a new office development or major refurbishment to achieve a specific NABERS Energy rating.All ratings are carried out by assessors. There are plans to expand NABERS beyond the office sector in the future.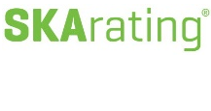 SKA rating is an environmental assessment method, benchmark and standard for non-domestic fit outs. It is led and owned by Royal Institution of Chartered Surveyors (RICS).
Leadership In Energy and Environmental Design (LEED)
Developed in the US, the LEED certification scheme rates based on evidence provided to the US Green Building Council (no assessor required). Criteria is similar to BREEAM, but with percentage thresholds and optional standards. There are five primary LEED rating systems reference guides, and each is directed towards a specific project type.
Planet Mark Development Certification
This series of certifications require the measurement and reduction of whole-life carbon emissions, engagement of the supply-chain and the inclusion of the local community. By helping embed sustainability from the outset, their programme supports BREEAM assessment and provides points towards the Considerate Constructors Scheme, along with contributing to 9 of the UN's Sustainable Development Goals.
A global standard for indoor air quality (IAQ) using sensor technology which is graded to give an Air Score for each property. Measures temperature, humidity, CO2, particulates (PM10 and PM2.5) and Volatile Organic Compounds (VOC's).
WiredScore is the global digital connectivity certification that evaluates, improves, benchmarks, and promotes best-in-class connectivity in the built environment. This helps landlords assess, improve, benchmark, and promote buildings based on how tech-ready they are.
Providing a global standard, SmartScore, which is run by SmartScore, identifies best in class smart buildings that deliver an exceptional user experience, drive cost efficiency, meet high standards of sustainability and are fully future proof.
RESET is a set of standards and assessment tools and services focused on data quality and data transparency with the purpose of helping built environments become healthier and more sustainable. RESET Embodied is a data-driven standard for evaluating the health, safety, and ecological performance of building materials and products in projects. It is the world's first standard, to leverage cloud software and its ability to rapidly score both products and projects. There are a number of standards available all currently in pilot stage.
CyclingScore rates buildings according to a set of standards to promote active commuting. Assessments look at how a building will support cycling, scooting, running, and walking to and from the workplace, with facilities such as secure well-lit bike-racking, and showers, scoring highly. The scheme also provides commercial landlords and property developers with official certification information and details about how they can improve and build upon their existing cycling facilities. CyclingScore aligns and benchmarks against other global accreditation schemes such as BREEAM, and LEED.

And, why is all this so important, well here's some statistics to bring the whole embodied carbon and carbon emissions from the built environment to light (Source: Architecture 2030):
The built environment
The world will add 2 trillion square feet of buildings by 2060 – the equivalent of putting up another New York City every month for the next 40 years
In 2040 approximately 2/3 of the global building stock will be buildings that exist today
Energy use
Energy used to power buildings is responsible for 28% of global carbon emissions
30% of the energy consumed in commercial buildings is wasted
Embodied Carbon
Building and infrastructure materials and construction are responsible for 13% of global annual CO2 emissions
Just three materials, concrete, steel, and aluminium, are responsible for 23% of total global emissions (most of this used in the built environment)